The Museum's History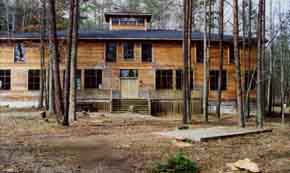 The Sequatchie Valley Historical Association, formed in 1984, set a goal to build an exact full size replica of the original coal company store "Commissary". The original "Commissary" building was constructed in 1902 by the Douglas Coal and Coke Company and was torn down after 1927 when the Chattanooga Iron and Coal Company bankrupted. Historical members researched photographs and maps to locate the original four corners of the "Commissary". The building measured 92′ long and 46′ wide, and including the observation copula was three stories tall. The reconstruction began in 1987 with ground-breaking ceremonies held at the park. The Studer coal family donated the first $5,000 toward the building fun
In 1989, Rhea County historian Mr. David Henry Gray died, and in his will named the Dunlap Coke Ovens Museum as the beneficiary of 30% of his residual assets, totaling over $71,000. Due to Mr. Gray's generosity, the Coke Ovens Museum became a reality with the reconstruction of "The Commissary". The new "Commissary" sits exactly where the old building originally existed . Today it is called the Dunlap Coke Ovens Museum, and is dedicated in memory of Mr. Gray.
The museum currently houses the largest collection of regional historic coal mining photographs in the state of Tennessee. Hundreds of donated mining artifacts are on display inside the museum. The Sequatchie Valley Historical Association is still accepting any coal related artifacts to add to their collection.
Our Mission
The Museum's mission is to preserve the region's cultural resources and educate local citizens and visitors that our coal heritage was important to Dunlap and region. The museum's goal is to collect and document the history of the mining operations and the old coke ovens throughout the Sequatchie Valley- extending from Alabama to Kentucky. Artifacts from other states related to coal mining are maintained and exhibited in the museum.
One room of the museum is set aside as a local history museum with historical objects common to the early settlers of Sequatchie County and Dunlap. An extensive veterans collection including photos of the local Service members is being maintained with plans for a future added room for their permanent display, fundraising will only begin after the Veterans Monument south of Dunlap is completed.
The museum has an extensive library of census records back to 1850 and other historical documents which detail the early history of the Sequatchie Valley.
We do not normally solicit or beg for funds, but if you are thinking of leaving funds in a will to a non-profit, please consider the Sequatchie Valley Historical Association a 501c-3 tax-exempt organization. All funds go to park or museum we have no paid members,  staff or CEO.
Resources
The last surviving coal miners, who were employed at the underground mines at Dunlap, were video taped by Coal Historian Carson Camp before they passed away. This rare collection may be requested for research purposes by appointment only for universities, historians, and educational groups. Other video tapes of area coal miners also exist in the library.
Take a tour of the museum. Here you will find many old photographs, that were once stored away in old trucks and closets. These items have been donated by many local citizens and they capture Dunlap's unique history.